The Forgotten Garden
Wednesday April 02 2014
Well I have at long last started to come out of my hibernation! This winter has seemed so long and so cold that all my creative juices went into cold storage! The snow banks around us are gradually starting to shrink – no grass or mud is showing yet but surely it can't be long. Yesterday early morning I heard some geese – a good sign – though where they will find any open water certainly won't be around here. Also yesterday there were two pileated woodpeckers in the yard.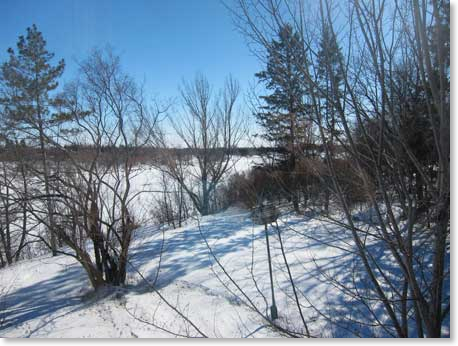 Although I was in deep hibernation I did start working on some hangings the beginning of March and I have a couple of them completed!
I started small and thought of Spring and so did some drawings of prairie crocus – then painted a background which I played with in the computer and then printed out to form the background for my small quilt. I was very pleased with the way it printed – I have a printer which has pigmented inks and so is great for fabric so long as you make it much stronger than the look that you see on the computer.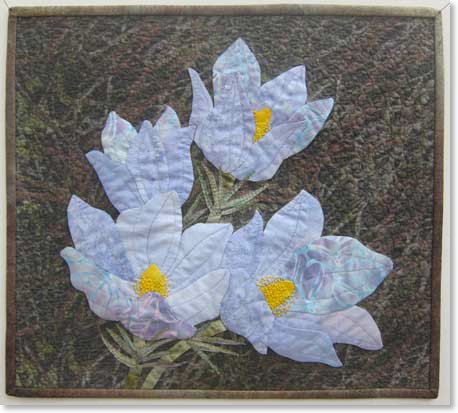 I then went even smaller and thought about the first time I displayed my quilts. It was one summer ten years ago and was when a fellow artist asked me to hang some of my quilts in a show he was having in Assiniboine Park. So here is my very tiny version of My First Quilt Show.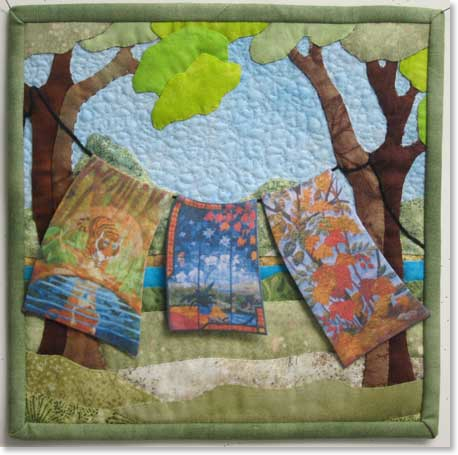 Having started small I became more ambitious and started thinking of a design for the Fibre Arts Network show "On the Wind". After playing with sails and dandelion clocks, with bent trees and blowing scarves, with snow storms and racing clouds I settled on kites. I did many drawings of feet and hands and then selected the fabrics for my trio of young people out for an exciting day of kite flying.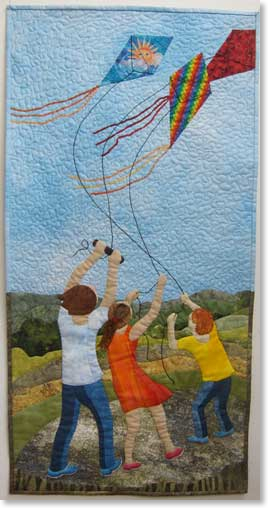 These three quilts really jumpstarted my design ideas and I have been busy working on the designs for a further group of hangings. This is just as well as so far this year I have three gallery shows to work on. The first show is at the Wasagaming Community Art Centre in June. The second one is in September with a group called G.A.W.M.Y.S. – Good Art Won't Match Your Sofa. A comment regarding how you buy art – whether to match furnishings or because of an emotional response. All the people in this group have been or are art teachers. The third one is with Kathleen Hamann Buckoski at Wayne Arthur Gallery in October. All three of these shows will be a combination of paintings and fibre.