Traveling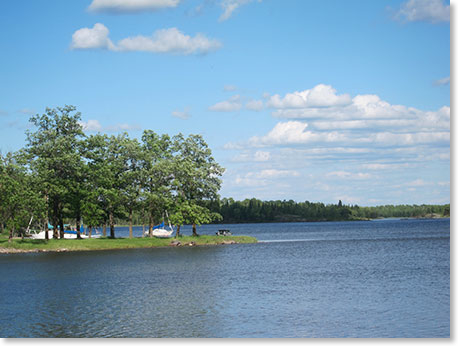 Have just returned from being one of three adjudicators at the Eastman Juried Art Show in Pinawa, Manitoba. A beautiful resort-like community that lies on the Winnipeg River and the northern edge of the Whiteshell Provincial Park just 110 kilometres from Winnipeg. Pinawa derives its name from the First Nations people who lived there – as it was referred to as "pinnowok" or "calm waters". The area is very serene and peaceful with many walks along the river's edge.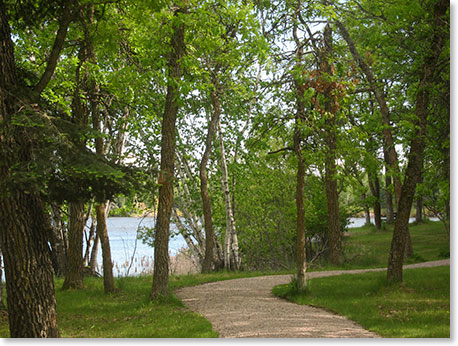 The juried show involved artists from the eastern part of Manitoba and is held in different places in the regions every year. This year the show was held also as part of Pinawa's Fifieth Year celebrations.
The art work in the show was of an exceptional quality which made it very difficult for the three of us to pick the first, second and third place winners. In fact we spent a day and a half - approximately 15 hours – judging and writing comments on the more than 160 works covering many different media from sculpture, pottery, drawings, paintings, fibre, prints and photography.
The people involved in the show were very welcoming and had worked hard to put on a fabulous show. The show continues until Saturday June 14th and is well worth a trip to the country.
While we were there Southern Manitoba was hit with a violent storm – in Pinawa we just had very heavy rain but funnel clouds were sited just a few kilometres away and Winnipeg had large hailstones. Having just bought a new car we were happy not to have been home as many cars were damaged!
Pinawa is also known as the Deer Capital of Manitoba as wherever you go in the town there are deer. I crept up on this young deer early in the morning expecting him/her to take off as fast as the ones I see in my own back garden – instead he walked slowly towards me and proceeded to eat the grass beside my feet! Giving me a wonderful photo opportunity!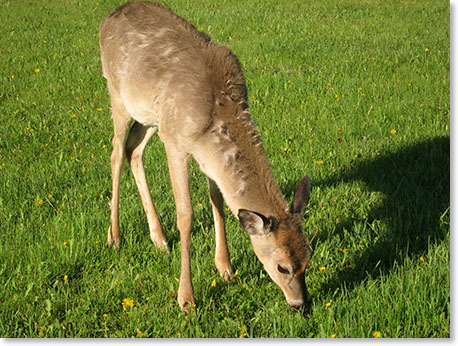 I will remember Pinawa warmly - not only the beautiful scenery, the wonderful artwork but also the beautiful and welcoming people.