OH THE DARLING BUDS OF MAY!!
Well it has been almost a month since I last put pencil to paper/fingers to keyboard to write something for my blog!!!! In the mean time spring has started to arrive in Manitoba – though we still have some snow under the trees despite having had high temperatures for a couple of days. The river is high but the threat of flooding has stopped, the birds are very busy, the pelicans are back and although there is still no sign of buds on the trees if the weather keeps up it won't be long before we see green leaves.
It has seemed a very long winter. However that does mean that I am getting on with my various projects. My commissioned three panel piece is coming along – I do most of my work by hand and so it always takes a long time. I have the designs of two panels stitched and the third one cut with all the edges turned in – now have to sew that one – then it is on to the quilting.
My fish piece is moving along – just as well as it has to be finished and photographed by May 15th. I am now hand quilting and I hope to get to the binding stage by the weekend.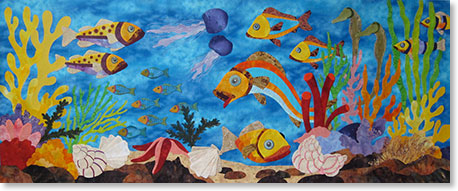 As you can see it is looking quite a bit different from the last time I posted it back in March! As yet it doesn't have a final title – goes by the working name of Fish.
I have had quite a "cultural week" in the last four days. Last Saturday I thoroughly enjoyed the Little Opera Company's performance of Talk Opera. On Sunday was wowed by the Royal Winnipeg Ballet's performance of the Moulin Rouge and yesterday spent a very enjoyable day at a workshop put on by the Manitoba Prairie Quilters. It was called Creative Quilted Postcards and was given by Monika Kinner-Whalen, a young artist from Saskatchewan. Never having done anything like that I had a lot of fun and certainly learned a lot about machine embroidery as well as the actual use of various accessories of my sewing machine!! Monika has a show of her beautiful embroidered prairie scenes at McNally Robinson in Winnipeg until June 2nd.