Drake's spirit
Friday February 15 2013 Filed in:
Exhibitions
| Visual Art
Well I have picked up my two quilts from For the Love of Crafts show at Cre8ery Gallery. It was a great show with a lot of diversity and seemed to be well received.
Also received my quilt back from Saskatchewan. It is a three panel piece I titled Drake's Burrator. The show was called Waterworks and was the work of artists from Fibre Arts Network, a group of professional fibre artists from Western Canada. The premise of the show was to show how water affects our lives. The show was in the Chapel Gallery July and August of 2012 and then moved to Alberta.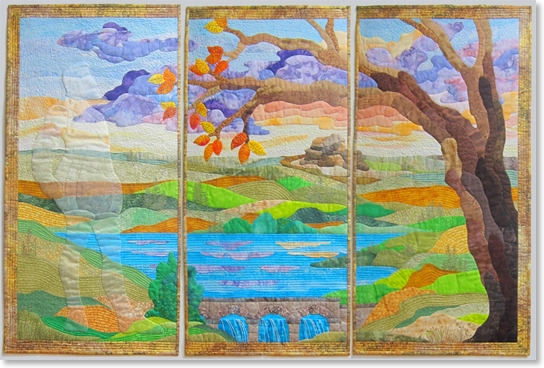 Burrator is one of the eight reservoirs that supply water to my home town of Plymouth, Devon. Water was first brought to the city in 1585 by, the then Lord Mayor, Sir Francis Drake. He brought the water, that had collected as a result of abundant rain, over the south side of Dartmoor via a series of small channels called leats. The growth of the population in the mid nineteenth century lead to the construction of this reservoir. I like to feel that Drake's spirit is still watching over the flow of water to his city from the lake.